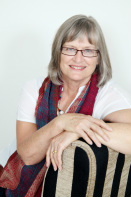 When you are most vulnerable it is difficult to ask for help.
Building a trusting relationship with you is my first priority –
so I would like to share something about myself and my journey.
I am a Mother, Grandmother, Healer and Teacher. Much of my lifetime has been spent studying and working with people – firstly as a Primary School teacher and then working professionally as an individual and family counsellor, family support worker, and educator. I have experienced many changes and challenges that have enriched both my life and my practice. Living in three different countries as a child, changing schools and friends, and experiencing different cultures has shown me how to value the differences and uniqueness of individuals and different cultures.
These changes and challenges have presented me with opportunities to learn about myself and grow spiritually. During these times it has been invaluable to have a 'third party' other than my friends whom I didn't want to burden. I needed someone to draw out my strengths, reflect my abilities, gifts and talents so that I could make my decisions from a position of empowerment. The beauty of this is that I learnt how to recognise and remember these qualities that dwell within me and make them shine. I understand the importance of being empowered; to be able to reach through the strong emotions; the fears that otherwise hold me back, and be empowered to achieve what I want to achieve.
Connecting with the Earth and Nature has been a great source for peace and joy for me even in the most challenging of times and so my journey has become a Shamanic journey that is enriching my life.
My journey led me to study to become a counsellor and I found that this wasn't enough. My work needed to reflect my spiritual journey and so my training continued; this time I was learning Shamanic Practice. Shamanic Practice has given me an amazing framework for supporting people to re-connect with their true nature and begin their Life Healing Journeys.
I am a Shamanic Healer and Counsellor.
Things I love!
Time with grand-children and my family
Creating
Gardening
Being at one with nature – walking and dreaming
Connecting with other like-minded people
Taking people on Life Healing Journeys
Meeting with my friends Reading and researching
Sharing what I have learnt and what works for me.
Qualifications:
Shamanic Path and Practice Practitioner.
Inner Voyage Meditation Teacher.
Healing Touch Level one.
Grad. Dip in Counselling (ACAP)
Bachelor of Education.
Graduate Diploma in Education (Teacher-Librarianship).
PACFA Registered Clinical Counsellor until 2016
If you would like to know more, please contact me using the form below.